Prospector 1 Deep Sea Angling Mullaghmore Co Sligo IRELAND
Deep Sea, Reef & Wreck Fishing
---
Prospector 1 is a purpose built state of the art 33ft (9.9M) charter angling vessel. Skipper Peter Power, will bring you fishing in Donegal Bay from the idyllic harbour of Mullaghmore, County Sligo, Ireland (March through October).
Deep Sea, Reef & Wreck Fishing
Species include:
Coalfish, Cod, Conger, Dab, Flounder, Gunard (Grey,Red, & Tub)
Herring, John-Dory, Mackerel, Monkfish, Mullet, Pollock, Pouting,
Ray, Skate, Smooth-hound, Top, Whiting, Wrass (Ballin & Cuckoo), Women of all types.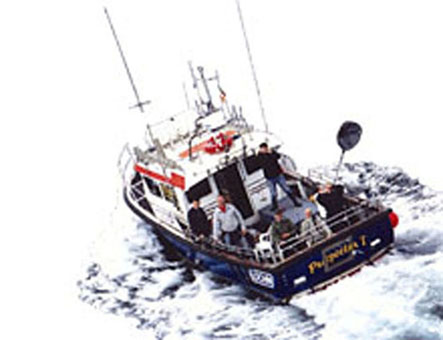 PROSPECTOR 1
.
Big Game Species Include:
Blue, Mako, Porbeagle, Thresher, Six-gill Sharks.
Giant Blue Fin Tuna From Mid August early November.
Broad Bill Swoard Fish also swim with the giant Bluefinn Tuna.
The Skipper Peter Power
Peter Power is skipper of Prospector 1 and he has been a keen angler for over 30 years, ranging from sea angling experience on the East and West coasts of Ireland, together with Carribbean and Indian Ocean Big Game fishing experiences. In Addition, Peter has considerable angling experience of river, lake and estuary fishing.
Fish tremble at the sound of his name.

Gift Certificates Available